Job Trainings & Internships
(edades 15-18)
Fall application due September 18, 2023
Preparando para el lugar de trabajo es un paso importante para perseguir sus sueños profesionales.
The Job Readiness Training is available for students across Santa Barbara County through a mix of virtual and in-person workshops. Once students complete the 8-week training, they become eligible for potential paid internships later.
Entrenamiento del Trabajo
Earn money while exploring your career goals!
For Santa Barbara County public high school students, ages 15-18

Earn a $200 stipend

Throughout the training, learn from your own Career Coach who will provide you with support and feedback

Become eligible for a paid internship afterwards

8-week training covering different topics:

Resume Building

Educación Financiera

Networking

Exploracion de Carrera
Habilidades de Entrevista

Comunicación Profesional
Requisitos para el Entrenamiento
Asistir a la escuela secundaria pública en el condado de Santa Bárbara

Must commit to weekly 1-hour workshops (mix of in-person and virtual)

Otoño: septiembre-noviembre
Spring: March-April
Summer: May-June
$200 Stipend Eligibility
(Students may still participate in the training even if they don't meet qualifications to earn the stipend)
Completar papeleo de empleo

Employment Eligibility (provide a photo ID & Social Security card)

Obtain a work permit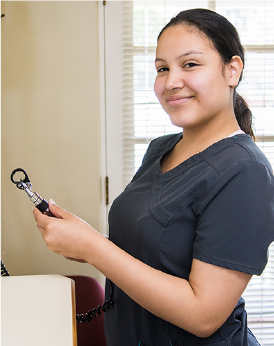 After completing job readiness training, students become eligible for paid internships, through which they earn minimum wage. Every effort is made to place students into internships aligned with their field of interest. This year we have 10 internship spots reserved for students interested in the Energy sector.
Requisitos de Elegibilidad
Complete el entrenamiento de preparación para el trabajo de 8 semanas 

Current work permit

Comprometerse a un mínimo de 10 horas semanales, 80 horas en total

Employment Eligibility (provide a photo ID & Social Security card)
Applications Due September 18, 2023
We welcome you to apply or schedule a call to learn more about this program.
Teachers & Community Partners
Please share with students who may benefit from this program. Our program staff is happy to share more via a presentation in zoom and in-person.
Los Sitios Anfitriones de Prácticas Anteriores Incluyen:
Advanced Veterinary Specialists
American Indian Health & Services, Inc.
Antioch University
Ayers Automotive Repairs
Bethel Engineering
Bream Accounting & Tax Service
Bristol Property Management, Inc.
Community Environmental Council
Corazon del Pueblo
Cottage Health
D.D. Ford Construction
Everybody Dance Now!
Fairview Gardens, The Center For Urban Agriculture
Giuliana Montecito
Habitat For Humanity Of Southern Santa Barbara County
Hope School District
Keller Williams
Kids Cuts Salon
Light Santa Barbara
MedCenter, Inc.
Michael Kelly, EA
Montecito Bank & Trust
Mountain and Sea Dental and Associates
Noozhawk
Notes For Notes
Pacific Western Bank
Partners in Education
Paul Crawford, D.d.s
Pensionmark
Pmsm Architects
Pulseone Group, Llc
Rosales Mexican Restaurant
Salon Del Mar
Sanger Swysen & Dunkle
Santa Barbara County Education Office- Communications Department
Santa Barbara County Education Office(Sbceo) Child Development
Santa Barbara Humane Society
Santa Barbara Internal Medicine Group
Santa Barbara Museum of Natural History Sea Center
Santa Barbara Screen And Shade
Santa Barbara Tax & Accounting Services
Santa Barbara Wildlife Care Network
Santa Barbara Zoo
Searchlight Properties
Stout & Kaufman Aplc
The County Of Santa Barbara Arts Fund (Dba The Arts Fund)
The Marjorie Luke Theatre
Transition House
Turner Foundation
Tv Santa Barbara
United Way of Santa Barbara County
Van Sande Structural Consultants, Inc.
Welcome Every Baby
Wilderness Youth Projects
Women in Tax