Our mission is to empower students for the world ahead through business, school, and community collaboration. We do this by creating and supporting inspiring, skill-building opportunities for youth along their TK-12 journey.
Schools cannot do the work alone.
We believe effective partnerships are essential to supporting and preparing youth for college, career, or simply the next grade.
Partners in Education was first formed in 1977 by leaders in the business and education communities. Partners grew and evolved into a nonprofit 501(c)3 organization in 2000.
View the 2020-2021, 2019-2020 and 2018-2019 Annual Impact Reports.
10,000+
Volunteers have engaged in our programs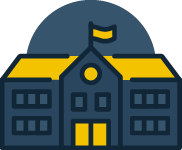 100+
Schools and nonprofit partners across Santa Barbara County

A Spark
Leaders in business and education form group; for many years what is known as the Industry Education Council leads efforts in workforce development

Computers for Families
Computers for Families, our longest running program, is launched in response to growing digital divide

Partners in Education is Born
Partners name is adopted and nonprofit status is attained, opening doors to new funding and program possibilities

New Programs Launch
The Volunteer Coordination and Paid Student Internship Programs are implemented in response to needs assessment with local schools

Focus on Growth
Programming begins to expand across Santa Barbara County

Emergency Response
In response to COVID-19, Computers for Families opens it services up to all students and adults in Santa Barbara County; all who have a need are able to obtain a free computer
Evolving, exploring, & trying new ways to better support educators, family, and the community at large...ALWAYS.